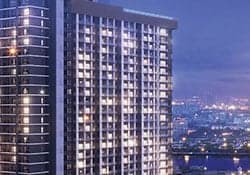 The baht's pullback and discounted prices offered by property developers have attracted more offshore fund flows into Thai residential projects, says the Housing Finance Association.
Higher demand from foreigners in residential projects for investment doesn't show up in data, as most prefer paying cash instead of taking out mortgage loans when buying real estate in Thailand, said president Kitti Patpongpibul.
Demand from local investors is also surging as they park money in real estate to get a better return at a time of economic sluggishness and low interest rates.
The return on property investment of 7% on average is far above deposit rates.
Real demand from home buyers remains strong, reflected in healthy mortgage loan growth in the banking industry of 10% year-on-year to 2.89 trillion baht of loans outstanding at the end of March.
New mortgage loans including refinancing are forecast at 600 billion baht in 2015, up 4.34% from last year.
Despite tighter mortgage loan approvals, the rejection rate for loan products in the overall industry is still low at 20-30%.
Pikul Srimahunt, head of mortgage and small enterprise products at Siam Commercial Bank, said SCB's housing loan rejection rate had risen to 23% from 20% last year.
The bank's rejection rate for salaried employees rose to 17% from 15%, while the rate for self-employed clients rose to 34% from 19%.
SCB, the biggest mortgage lender with loans outstanding of 550 billion baht, expects its loan portfolio to rise to 570 billion by year-end.
The bank aims for 120 billion baht worth of new mortgage loans this year after extending 57 billion in the first half.
SCB's non-performing loan ratio for mortgage loans rose to 2.24% at the end of June from 2.17% at the end of March.
Investment in residential projects is expected to be 960 billion baht, while new mortgage loans are estimated at 640 billion, leaving a 320-billion-baht gap to be paid in cash.
SCB shares closed yesterday on the SET at 153 baht, down one baht, in trade worth 732 million baht.
– 05 Aug 2015 | Somruedi Banchongduang
http://property.bangkokpost.com/news/644316/foreigners-flock-to-property