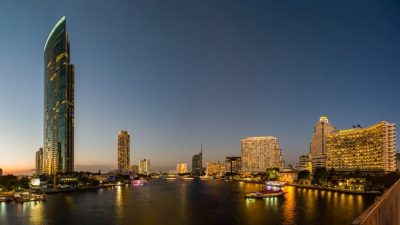 Despite its economic woes, Thailand's luxury real estate market is doing just fine. But that's not unusual for a country where, come bull or bear, the market for luxury real estate continues expanding and diversifying. Both foreign and domestic buyers are still willing to shell out serious cash to live in, what some may argue, is one of the most beautiful places in the world.
The Market Faces Challenges, But the Future is Bright
Thailand's economic path isn't written in gold, and its luxury property market isn't all rainbow and butterflies either.
In places like Koh Samui and Phuket, both resort destinations that rely heavily on investment from foreigners, has seen a marked decline in sales volumes. These key areas thrive on investors who purchase holiday condos and villas or second homes. Political troubles in the country and a stronger baht have caused investors to be more cautious.
High-end sectors, like the resort properties in Phuket and condos in Bangkok, have been directly affected by a stronger baht, which makes the market less attractive to foreign buyers.
These negative factors coupled with the red tape and restrictive laws regarding foreign ownership have deterred international investors from purchasing property in Thailand's luxury property market.
But despite these obstacles, political stabilization and a slight boost to the economy has improved the outlook for the market heading into the next two years.
We're also starting to see improvements in the condo markets in areas like Bangkok, which is a key location for foreign buyers.
The condominium index climbed 14% in 2014. The price index for condos increased by 6.60%, while the residential land price index soared 6.36% during the same time period.
Supply and demand for luxury condos in Bangkok is also rising. In 2015, 951 new properties were added to the market. In 2014, we saw 367 new properties added, so the market is clearly showing signs of improvement.
Over in Phuket, 53 clifftop and oceanfront properties went onto the market in 2015. In both 2013 and 2014, there were no new properties of this type on the market.
Political and economic issues aside, low property taxes make Thailand an appealing place for foreign buyers. And while the country does has restrictive foreign ownership laws, they are still more lax compared to other nearby countries.
Looking Ahead
The luxury market will face competition due to new supply this year. But an improving economy and a stable political landscape will support the market.
The vast majority of demand for luxury residential properties in Thailand will still come from Thais with high net worth. The market will largely be driven by social demographics, which are changing rather quickly. Smaller household sizes and lifestyle changes will impact the luxury market in the coming years as demand for housing in downtown areas will continue to grow for people of all ages.
With pricing for prime land in Bangkok at THB 1 million per square wah, developers are being forced to build luxury properties, which means that we're likely to see this segment of the market grow in the coming years.