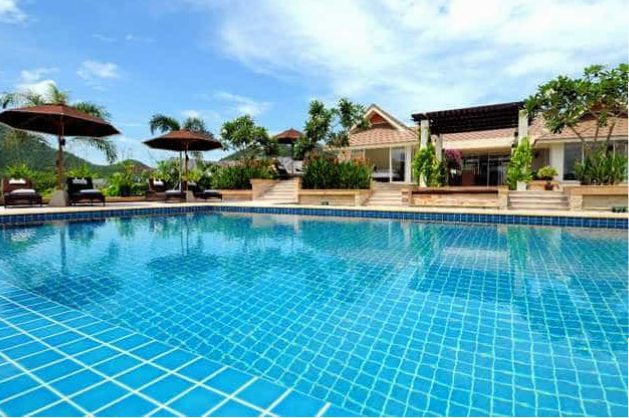 Peter Ton, the Dutch executive behind Hua Hin's award-winning Baan Ing Phu project, puts the case for Thailand's upscale royal seaside resort town
What are the chief attractions of Hua Hin as a retirement destination?
Hua Hin attracts the right audience – many of the tourists and expats here are in their fifties and are here not just to party. The community in Hua Hin is also a good mix of Hua Hin locals, Thai tourists and expats from all over the world.
Also, the real estate price level in Hua Hin is reasonable, especially compared to Phuket.
More and more high-end hotels and facilities are coming to Hua Hin, although the town has special legal protection from over-development and has kept its charm.
There are now eight golf courses and two more golf courses are being developed, which is a major attraction for many expats.
Finally, it's just a two-hour drive to Bangkok, where one can find all products or services that one can think of.
What infrastructural support does Hua Hin offer retirees – for example, in terms of healthcare?
Currently Hua Hin has two hospitals and many GP doctors and many specialists and dentists. The quality of the hospitals – especially the San Paulo – is adequate, and this is the objective opinion of a friend who is a medical specialist and was treated in the hospital twice.
However, for complex medical treatment I would, of course, opt for one of the Bangkok hospitals.
The good news is that Bangkok Hospital will open a branch in Hua Hin in 2011, which means that Hua Hin will offer top-class medical care.
How did you end up living in Hua Hin?
I have travelled to many places in Thailand and I have certainly seen all tourist destinations. What I like about Hua Hin is that is has a mix of everything. Certainly, the beaches in Phuket are nicer.
The mountains in Kao Yai are nicer and shopping is better in Bangkok. However, the mix that Hua Hin offers for beaches, nature, shopping, nightlife – combined with its still friendly village mentality – is attractive.
When I come back from another destination I really feel that I am coming home.
What are your favourite places and activities in Hua Hin?
I like to visit the beach at Kao Takiab and choose one of the many restaurants in town for a dinner during the weekends.
Since I still work a lot I have no time for playing golf.
If I have friends visiting we also visit some of the nature parks such as Keng Krajarn or Sam Roi Yod.
What do you see as the necessary level of income for a comfortable retirement in Hua Hin?
Of course, this is very much a personal matter. It totally depends on the lifestyle people like. For instance, an executive lifestyle in Thailand can be expensive, if you like to drive a imported German car, drink fancy imported French wines and always like to dine in 5-star hotels and resorts.
However, if you buy and use local products and local services, one can have a very comfortable life for about 100,000 to 150,000 baht. With that you can enjoy services that would be very hard to get in the West, like a full-time maid, private chef, private driver etc.
To what extent is Baan Ing Phu geared to retirees in terms of services, infrastructure, community?
Baan Ing Phu provides services that a retiree in the West can only dream about. Standard services include, among others, garden maintenance, pool maintenance, house keeping etc.
Besides that, we offer services of private chefs, drivers, administrative support for getting visas, banking, insurances, and so on. We can also accompany Baan Ing Phu residents for shopping, medical visits etc.
At Baan Ing Phu we have developed a Western-quality infrastructure, such as drinking water everywhere, high-speed internet (good for frequent skype contact with the family back 'home'), cable TV with international channels and an alarm system – in fact, it is unlikely that the residents will need this alarm for burglar alarm functions, but a smoke alarm, heat alarm and emergency button are useful elements.
Are you planning any additional features to respond to the needs of retirees?
Yes, we will offer basic-medical services on-site if there is a need for that and we can organise 24/7 care for residents as well. Our approach is that we offer services that people really want and not offer all kinds of standard services that most people don't need or want to have. Our service organisation is flexible enough to offer ANY service that residents can ask for!
What are the profiles of the retirees living in Baan Ing Phu?
The retirees come from different countries, such as Holland, Germany, France, UK and Asia. They are used to a comfortable lifestyle, are used to travel, and enjoy the nicer things in life.
In Baan Ing Phu you can already see and feel that the customers are like-minded. Many of them have had their own company and have sold it and now enjoy life to the max after all the hard work they have done in the past. Some others are still involved in business but take more time now to relax and enjoy.
What sort of person is suited to retirement in Thailand? Is there any type of person you would recommend to retire elsewhere?
Of course, there is a group of retirees that are looking for more than excitement than that available in Hua Hin. These people will go to Phuket, Bangkok or Pattaya.
I guess Thailand has a place for most retirees, although I know from experience that still a large group of retirees find it scary to move away so far from their home country.
Are there any aspects to retiring in Thailand that people tend to overlook? Are there any common mistakes?
Many retirees have family in their home country. For this group it is important to keep in touch with the family and friends they have left behind. So staying in Thailand in the winter period can be perfectly combined with spending time in the summer period in, for example, Europe.
Besides that, they can always invite guests who can stay at Baan Ing Phu or elsewhere.
Secondly, I think it is important that people continue doing things. I don't mean necessarily work, but a sport like golf is a good option, or travelling through Asia (Bangkok is the perfect hub) or even getting involved in charities can be very positive.