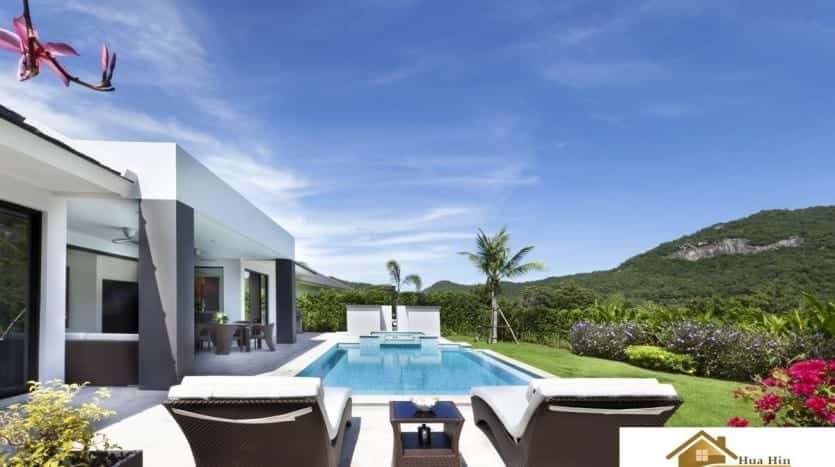 Baan Ing Phu Hua Hin
Baan Ing Phu is much more than a luxury private estate – it's an extraordinary lifestyle that epitomizes relaxation and refined living for the few.
The Thai name Baan Ing Phu translates as 'The house leaning towards the mountains'. The estate is surrounded by stunning vistas of the neighbouring Black Mountains in a quiet natural environment that is a short distance from the Thai historic resort of Hua Hin.
It is a private escape where discerning homeowners can be assured that their needs are looked after. The overall concept has a luxurious resort ambiance in a relaxed stress free environment for people who expect exceptional living standards.
The estate features beautifully designed and meticulously built private villas using a wonderful combination of Eastern design and Western building standards. The use of the finest local materials offers a personal choice of granite, marble, wood and ceramics. Each villa can be custom built to individual requirements, offering owners the unique opportunity to create individual homes of their dreams.
The resort also offers a diverse range of sports and leisure facilities that reflect it's five-star environment.
Currently the estate measures over 14 hectares which makes it one of the largest property developments in the Hua Hin area.

Baan Ing Phu has been awarded a host of prestigious annual property awards thanks to it's attention to detail, high service standards and innovative cutting-edge design.
In 2011 Baan Ing Phu was awarded the accolade "Best Residential Development in the Hua Hin region" by the Thailand Property Awards for the third consecutive year and additionally was again nominated as "Best Villa Development in Thailand".
The Thailand Property Awards, presented at a lavish gala dinner at the Grand Hyatt Erawan Hotel Bangkok, celebrated the best of the best and showcased Thailand's residential real estate industry.
The awards assist in promoting the high quality of Thailand's real estate, construction, architectural and interior design as well as industry professional services and are recognized globally.
In 2011 Baan Ing Phu also won the annual Dutch Business Excellence Award for "Best Service Organization", an initiative of the Netherlands Thai Chamber of Commerce, for its existing services and for the concept of the Pure Health Spa.