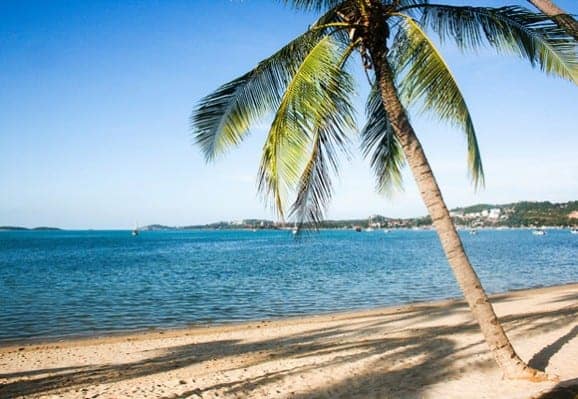 Thailand is one of the world's most popular locales for good living abroad. And there are lots of reasons why. For pennies on the dollar you get a year-round tropical climate and access to modern comforts and conveniences, including affordable, high quality medical care.
There's something special about this corner of the world. It's an exotic place—orange-robed monks collect alms at dawn—yet it's easy to live a comfortable lifestyle, similar to that of the West, but without the headaches and extra expense.
We dine out on delicious Thai food, go to the cinema for an English-language original, or, at a moment's notice, take off for a beach weekend. And the Thai people are some of the most welcoming in the world. As expat Godfree Roberts says: "Happiness is a priority. Thais live much more in the moment than we typically do. And it's to everybody's benefit. The country's greatest accomplishment is its sophisticated culture."
And it's beautiful. Think turquoise seas and white sand beaches, jagged limestone cliffs, beach-rimmed islands, mountainous jungle retreats. With that comes a whole range of lifestyle options. On a budget of around $1,800 including rent a couple can live well anywhere in the country.
You'll often hear newcomers express their surprise at how easy it is to acclimatize, to find First World comforts while still enjoying all the excitement of life in Asia…where ancient temples, golden Buddhas, and colorful markets are part of daily life.
But where should you start looking? To help you find the perfect spot, here's a rundown of the country's most popular expat havens, as well as a couple of "off the-grid" destinations for anyone seeking an extra dose of peace and solitude.
Chiang Mai: Mountain Views and a Slower Pace of Life
Located near the foothills of northern Thailand, an hour's flight from Bangkok, Chiang Mai is popular for those seeking a calmer way of life and a more temperate climate.
As the center of northern Thai, or Lanna, culture, Chiang Mai is home to hundreds of Buddhist temples, with a rich history that dates back some 700 years. The reverence for this history, combined with a mountainside setting, helps give the area its unique feel. A moat still surrounds Chiang Mai's historic core and the crumbing remains of this once walled city evoke its exotic past.
With an average temperature of around 77 F during the cool season, Chiang Mai sees some of the country's best weather. And here you have access to all of the modern conveniences and comforts of daily life, at some of the most reasonable prices in Thailand. You'll find impressive dining options, movie theaters featuring first-run films, and two western-style malls, as well as a JCI-accredited hospital offering quality, affordable medical care.
Paul and Marjorie Hilts, who spend four months a year in Chiang Mai and the rest of the year in Colorado, attend to most of their medical needs while in Thailand, despite carrying U.S. insurance. "Health care is of a high standard and low price compared with back home," says Paul. The couple fell in love with the area after a 1997 visit and have spent many winters in Chiang Mai since. "We enjoy the Thai culture and people, plus the weather in December and January is just about perfect," says Paul.
"We belong to a health club where we go to yoga five times a week. On Sundays we ride bicycles with the local cycling club," says Paul, who, as an amateur photographer, finds plenty of inspiration on his explorations around town.
Like any modern center, Chiang Mai is not without its challenges. The area's popularity means overcrowding can be an issue, especially in the Old City. And during the hot season, when rice fields are burned for the coming planting season, the area suffers from reduced air quality.
Many expats live near the city center, where you can find a one-bedroom condo for as little as $88 a month—with rent becoming even cheaper still if you commit to a six month or year-long contract. A furnished, two-bedroom, two-bathroom, river-view condo in the expat friendly Wat Ket neighborhood goes for $485 a month. Move farther out and for $500 monthly, you can rent a furnished two-bedroom home with 1,600 square feet and mountain views.
Koh Samui: A Tropical Island Haven
When it comes to the ideal beach lifestyle abroad, many expats look to Koh Samui, where the palm-lined beaches, azure ocean, year-round tropical weather, and affordable costs make for ultra-easy living.
Just an hour-and-a-half flight from the Thai capital of Bangkok, this popular spot offers something for everyone, whether you dream of a tranquil seaside retreat or prefer frequent nights out on the town. You can access quality health care, where a basic doctor's visit costs as little as $20, and there's plenty to keep you busy—from yoga and Pilates to salsa dancing and bridge club—when you're not soaking up the sun on one of the island's many beaches.
Expats come to Koh Samui for the sea, sand, and sun, and they stay for the affordable, laidback lifestyle. "It's like Hawaii, only easier," says Sam Rogers, who's originally from California. Or, as another resident expat put it, "You can get away from it all…find a quiet beach and enjoy the surf or sunset…or you can join any form of entertainment or adventure, from zip-lining to chartering your own sailboat."
The best part? A couple can live here comfortably for as little as $2,500 a month, including rent, though some expats spend much less.
There are lots of areas to live in to suit any taste or pocketbook. But one of the best for peaceful seaside living is Mae Nam, a low-key community on the beach, and home to seasoned expats and locals serving the tourism industry. Only a short walk from the beach, a brand-new 2798-square-foot villa with three bedrooms, two bathrooms, and a large garden can be bought for $94,694. If you prefer to rent, a two-bedroom, one-bathroom apartment with a living area, kitchen, in expat hotspot Lamai goes for $614 a month.
Bangkok: Modern and Affordable
Thailand's capital, a former Chinese trading port situated along the banks of the Chao Phraya River, has long attracted expats. Earning its place in history as an "R&R" spot for American troops serving in the Vietnam War, Bangkok has flourished into a modern and cosmopolitan city, with gleaming skyscapers, luxury hotels, and world-class public-transit options. Today, expats flock here for the multicultural vibe and high-on-convenience, easy on-the-wallet living.
For less than a dollar, you can dine on a bowl of noodles at some of the best street-food stalls in Asia….or spend $100 or more and indulge in a five-star meal at your pick of the city's classiest restaurants. Enjoy live music in the city's pubs or take in views of the skyline from one of many popular rooftop bars, such as Above Eleven on the 33rd floor of the Fraser Suites hotel. The capital also boasts some of the region's best shopping, including a multitude of markets, North American-style malls, and boutiques.
The city's large concentration of foreigners, or farang means there's no shortage of social clubs and activities for interests as varied as tennis, language study, and theater. Bangkok is home to many of the country's top doctors and private hospitals, and local expats appreciate the astonishingly affordable costs for top-quality care. For example, you can see a specialist for less than $50.
A majority of Bangkok's expats choose to live in the heart of the city, along public transportation routes that ease getting around in what is one of Southeast Asia's largest cities. Sukhumvit Road, one of the main thoroughfares, is a popular choice for its proximity to the elevated "Skytrain" and the MRT underground. Here you'll find some of the best condos, restaurants, night spots, and shopping, including a large concentration of professional tailors.
Those who prefer a little more elbow room settle in Bangkok's various suburbs, such as Bang Na and Nonthaburi, both less than 20 miles from the city center.
"I see blue skies often," says Kim McGrail, who's lived with her husband Rob part-time in a riverside condo in Nonthaburi for 13 years. "We have views of Bangkok in the distance." Bangkok's proximity to the coast, as well as a variety of regional attractions, is another reason the McGrails chose Thailand as their home away from home. "I love that we can get to Vietnam and Cambodia in an hour-and-a-half or less," says Kim.
Due to Thai law restricting the purchase of land and homes in the country, condominiums are a popular choice. A modern, 1,829-square-foot, two-bedroom, two-bathroom condo in Asoke—one of Bangkok's main business centers and home to a thriving expat community—is listed at $1,330 a month. Try the suburbs, and you can rent a three-bedroom, three bathroom home with 2,580 square feet near shopping options and an international school for $1,000 a month.
Hua Hin: Relaxed Seaside Retreat
This once-quiet fishing village south of Bangkok first debuted as a beach getaway in the 1920s, when Thailand's royal family built a summer palace on the shore. Soon, the Thai capital's elite followed suit, establishing vacation homes on the area's wide, sandy beaches. Today, an easy, two-and-a-half-hour drive from Bangkok, Hua Hin is known among expat circles as a lively seaside town with easy living, a burgeoning restaurant scene, and a taste of the good life.
In addition to long stretches of clean, beautiful beaches, there's a great night market right in town, where you can buy CDs, inexpensive bags, and Thai handicrafts. Get your shopping fix, then stop at one of the area's seafood stalls for the day's freshest catch. Or head a few blocks east where you can dine wharf side by candlelight.
For more than a decade, Hua Hin has hosted an annual jazz festival right on the beach, featuring some of the finest local and international musicians. And in recent years, the area has seen the establishment of a local winery open to visitors for tours and tastings. (That's right…the Thai's are now making wine and it's not bad!)
Expats appreciate Hua Hin's small-town feel. And while the area's proximity to Bangkok initially draws people here, the sea breezes and reasonable cost of living are what convince them to stay.
As in many parts of Thailand, there's local access to quality, affordable medical care. Most expats seek care at the area's private hospitals, including the recently opened Bangkok Hospital Hua Hin, a satellite center of the well-known hospital located in the capital.
John Carr lives and works in Bangkok, but spends as many weekends as possible at the condo he purchased 10 years ago, half way between Hua Hin and Cha'am, located 15 miles to the north. "It's a great chance for me to relax," says John. "The beaches are excellent and fairly quiet." John admits the area has seen growth and many changes over the years. Still, he says, "Hua Hin is an easygoing town with lots of things to do."
A 1,011-square-foot unit with two-bedrooms, two-bathrooms, located in the popular Khao Takiab is listed at $177,600. Move farther inland and you can find better deals. If you're looking to rent, the options are plentiful. A three-bedroom, three-bathroom home with 1,615 square feet within walking distance to the beach goes for $858 a month.
Phuket: A Beach Lifestyle with All the Amenities
Nothing quite prepares you for the beauty of Phuket, especially when approaching the region by air…the sparkling, turquoise waters and jungle-topped mountains, the rocky outcrops and white-sand beaches. The country's largest island is paradise for many expats.
Dubbed the "Pearl of the Andaman," the island's surrounding waters are warm and clear and there's an ever-present breeze. During the dry season daytime temperatures average in the 70s F.
Phuket offers an easygoing lifestyle, or a club-hopping, center-of-the-action one, depending on your preference. For instance, you can go for a swim and a relaxing lunch on quiet Naithon Beach or you can join the buzz in the bar-lined Patong area, where music throbs and cabaret shows continue into the night. And with Thailand's second-busiest international airport, you can easily catch a flight to a range of destinations, without transiting through Bangkok.
But the biggest draw for many expats is the comfortable, convenient lifestyle. In Phuket you can enjoy some of the best seafood in the south of the country and dine at a range of gourmet restaurants, from sushi to Italian, to Indian. You'll find grocery stores stocking imported foods, fashion and furniture boutiques, and golf courses galore. Expat clubs welcome newcomers and offer everything from cycling to sailing, and access to top-notch medical care is a reality here, at a fraction of the cost of back home.
It is this quality of life that drew Paul and Mary Farrell to the region. Originally from Canada, the couple vacationed frequently in Thailand over the years, and retired in 2010 to live full-time in Phuket. "After living in the cold of Canada for most of my life, it is nice to be living in a warm climate—I enjoy walking on the beach and sunset dinners," says Paul. The couple dines out often, which Paul says is "very reasonably priced and delicious."
Today, little trace is left of the impact of the 2004 tsunami, which devastated Phuket and other locations on Thailand's western coast. Resorts are now back to full capacity, many of which took the opportunity to renovate and upgrade their facilities following the destruction. Since the tragedy, a tsunami warning system has been established in the area to increase safety.
Phuket's expats live in a variety of towns and villages. The Patong area does earn its reputation as a seedy locale for tourists and "sex-pats," but that's just one part of the island. In fact, you'll find in Phuket a very nice range of "family-friendly" locales like Chalong and the Nai Harn/Rawai area.
But whatever your budget, there's something for everyone. A two-bedroom, two-bathroom condo—fully furnished with a shared pool, fitness center, and sauna—just a five minute walk from Kamala Beach, rents for $828 a month. Sacrifice beach views and you can rent a three bedroom, two-bathroom home with 1,500 square feet for as little as $478 a month to the island's north, near Nai Yang Beach.
– Posted on June 26, 2015 | International Living
http://internationalliving.com/2015/06/the-5-best-places-for-expats-to-live-in-thailand-2/